Through working with the individual in all aspects of horticulture, ground maintenance, woodwork and independent living, COGS increases self esteem and confidence.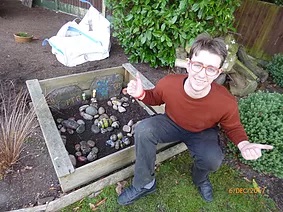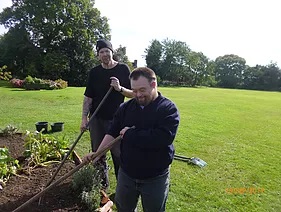 The team ensures that the individual understands the processes involved by completing the task onsite, and then how this task can be transferred to aspects of daily life.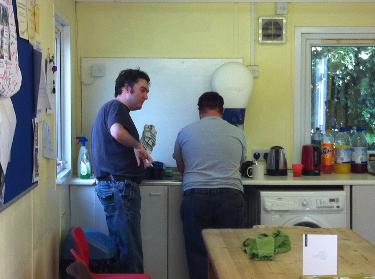 Working at COGS involves tasks that are a part of daily life such as time planning, reading timetables to aid travel training, washing up, making drinks, making decisions at team meetings and being responsible. We offer support and guidance to prepare people for life.
All decisions to do with COGS are approved by the members first. To the right is a picture of a team meeting in scorching weather outside. It is important to COGS that the members are in control of their business and are equal in making the decisions.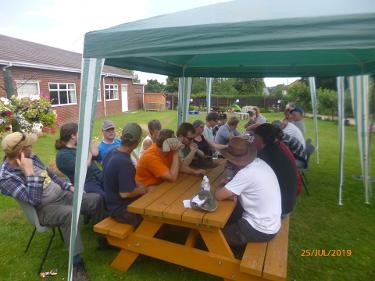 What to expect in the early days
Getting Started:
To begin with, a new member will receive an induction. This involves a chat about health and safety and familiarising themselves with our training site, which is based at Burntwood Memorial Hall, Rugeley Road. It is important to help new members get to know the workings of the machines and tools gently and in a safe environment. COGS has an agreement with the Memorial Hall to maintain its grounds and this is the training field for all gardening members. There is also a purpose built woodwork area where woodwork skills are taught, and the woodwork planters, troughs and raised beds are used to enhance the grounds. During this time the members will be under close supervision and will be offered training and support appropriate to their needs.

The onsite workplace and training grounds

We have spectacular grounds available to us and you will be shown how to maintain all the different parts of the garden in the correct way:-
​
We have 2 types of lawn: The first is where people congregate after weddings and have their photographs taken and it is ringed by small fruit trees and with seating etc. This means there are lots of skills needed for mowing and edging of the lawn, weeding, dead-heading the flowers, pruning the trees and keeping the area photographic.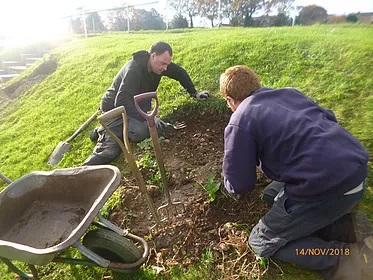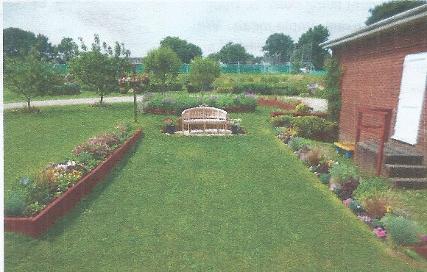 We also have a much larger grassed area which needs maintaining but it has large banks, culverts and raised vegetable beds within it. Again, lots of skills needed.
​
We have award winning flower beds and vegetable plots which you will learn how to stock and maintain.
​
We also have a fantastic composting system which has been recognised as a model of ecological excellence.
Plant Care and Propagation
At the beginning of the Spring we start sowing flower and vegetable seeds that will grow into seedlings, be pricked out, potted on and used on site, in baskets, tubs, vegetable beds and public sales.
​

The tubs and hanging baskets need specialist techniques and you will be shown how to mix the growing medium and to then plant out the containers.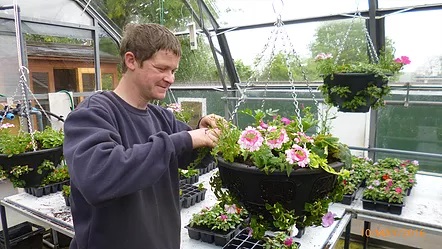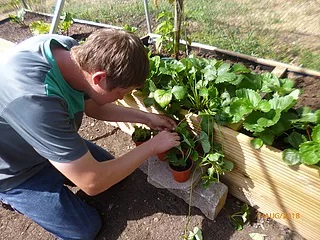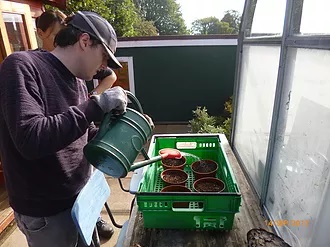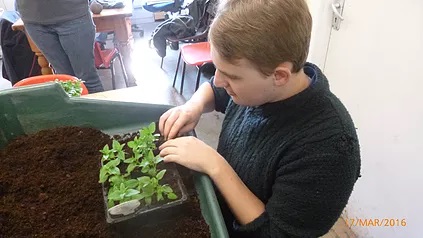 You will be shown how to pot up plug plants and care for them until they are ready for sale and planting on site. We encourage our customers and the general public to buy our plants as it enhances their own gardens and also is a great way for the gardeners to learn how to interract with the community.
Advanced gardening across the Community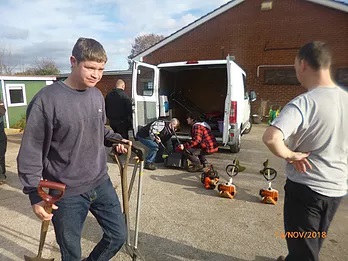 After a period of training, you may be able to join the team that works across the community.
​
This is an award winning service that supports people to live in their own homes. You will be taught top quality gardening skills including the correct way to mow and edge a lawn,
how to tell the difference between a weed and a plant in people's gardens and in time you will be considered for hedge cutting and use of the strimmer.
​
The team load the van with all the right tools for the day and you will be taught how to put the right fuel into the mowers and all the health and safety information to do the job safely and well.